A few friends, a crazy idea, and a digital campus
Behind making max, CCA's unofficial mascot
Problem
CCA's social culture is divided by majors, years, and space. We saw a need for connection across disciplines and CCA's two campuses (in Oakland and SF).
Solution
We created a "digital campus" called Max CCA for our university, an open platform that shares student voices, student work, and cool events going on in and around CCA. Max rapidly became friends with friends with 1,783 CCA students, or 80% of the CCA community.
This page is about my contribution to the project. If you're interested in the origin story , we've put that in a Medium post. (Click the button below).
What I did
Develop and implement Max's branded voice(s) via brand and content strategy. Since I was the best at writing and speaking English on the team, every piece of written content was either generated or checked by me.

Manage project content and future plans: I became the main person running the Max platform. For almost two years, I spent 4–6 hours per week interacting with people on the public platform and through private messages and email, creating the Nerdy Calendar, or planning for future initiatives.
SPRING 2016-18 (4-person team)
MATERIALS: Facebook, typeform, bit.ly, InDesign, AfterEffects, Photoshop, printed swag, iMessage, Teamup, Medium
Max is an open platform community space made for CCA students by CCA students
emoting the 3 personalities: Agent, Curious, Nerdy
Agent Max
(cool, mysterious)
Agent Max to friend-base. Do you copy? Whisper your thoughts to me and I'll spread it anonymously for the world to hear. Tell me about your college experience, or anything at all. Whisper to me in the portal http://bit.ly/agentmax. Over. #AgentMax
Curious Max
(Shy, Enthusiastic)
Hello, my name's Curious and… I'd like to say… I saw your cool artwork at school the other day, but lots of people didn't get a chance to. That's a real shame, I think... You know what? If you send me your work, I'll put it up for everyone to see! This way, we will all bridge the gap between disciplines and you'll get to see all the awesome stuff being done in CCA.
So, if you're interested in submitting your work or nominating a friend's, message me or send an email with the subject title "#CuriousMax" to cacollegeofmax@gmail.com with picture(s) and an optional short description. I can't wait to share your work with the world!
*Kelly, one of Team Max, helped a lot with capturing Curious Max's tone.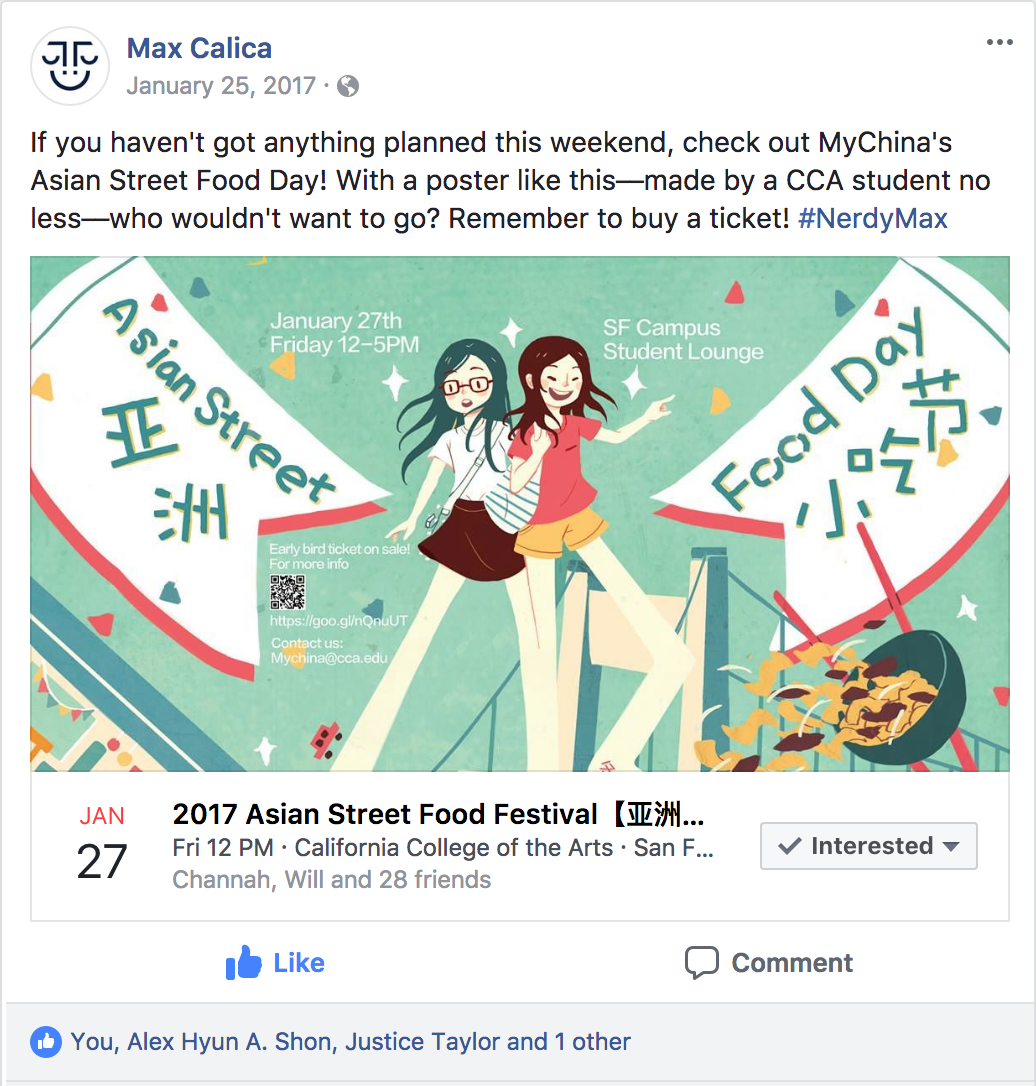 Nerdy Max
(Chill, quirky)
Hey! Nerdy Max in the house. There're so many events, lectures, and workshops going on in CCA and we rarely get to hear about them. I'm here to share information with you so that you're aware of what's happening within and outside your major. Nerd out! #NerdyMax
Some of Max's posts were commented on, or it occasionally receive messages. I was always lurking online in case Max was ever talked to directly. Sometimes Max was privately consulted for advice or a listening ear. In my favorite conversation, a student asked Max if it was a robot.
Naturally, I played along.
Recognized by CCA & Partnering with the student council
As president of the student council...
While Max was active, I became the Coordinator of the CCA Chimera Council. My personal mission during my tenure was to build a foundation/platform that the Council could use to get feedback, and it just so happened that Max was the perfect solution. In spring 2018 we announced our partnership and I hope that Max continues to serve the student body at CCA.
Use negativity to fuel positive change
I learned how to make my education my own. I was always so skeptical of CCA, but I was also tired of complaining and doing nothing about it. I got involved with Team Max, somehow ended up in Chimera Council…and realized there is hope! It's just muddled by a lack of transparency. That's something I'm working on continuously as a part of Team Max and Chimera Council — establishing a platform to help unite the CCA community — as well as in my own projects and life. Now I encourage everyone, especially every student at CCA, to take charge of your ambitions, actually turn your negativity into fuel for action, and make a real difference in your community! It's okay to be negative, but turn that energy into something productive and positive :)